Texas Tech alumni who have moved away from Lubbock and remained elsewhere for several years keep noticing new features when they return.
The $59 million United Spirit Arena was the jewel starting in 1999. This year, more of the $84.9 million spent to improve Jones SBC Stadium will be in evidence with the massive west-side stadium building coming to fruition.
It's long been taking shape; this fall, it'll finally be operational.
''It's incredible,'' project manager Robert Cameron said recently. ''You have your share of heartaches and your share of joys. Hopefully, the heartaches are over with and the joys are in front of us. Everyone that sees it is really impressed with it.''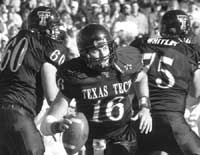 ---
Texas Tech quarterback Kliff Kingsbury set several records with the Red Raiders. Kingsbury was recently drafted by the New England Patriots.
JIM WATKINS t AVALANCHE-JOURNAL
---
The building takes up 172,000 square feet with 48 luxury suites, a stadium club and a new press box.
The Spanish Renaissance architectural style ties it to the Tech campus.
''You've got some incredible views from up there,'' Cameron said. ''It's just gorgeous. There's nothing like it in the world. There's not another Spanish Renaissance football stadium.''
Tech also is scheduled to open an $11 million football complex this summer. That takes up 57,000 square feet just southeast of Jones SBC Stadium. Inside, Red Raiders players and coaches will find a 130-player dressing room, a 10,000-square foot weight room, a training room, a lounge and a meeting room with tiered seating for 200.
In the meantime, Tech football coach Mike Leach will try to keep the construction of his program moving forward. Last year, the Raiders' 9-5 record marked only their third time in 26 seasons for the team to finish four games better than .500.
They also recorded the most lopsided bowl victory in school history, beating Clemson 55-15 at the Tangerine Bowl.
Although competition is fierce in the Big 12 Conference, Tech has put together a well-rounded program of late. Bob Knight's hiring a little more than two years ago sparked a resurrection in men's basketball: The team won 23 games and advanced to the NCAA Tournament two seasons ago and won 22 times and reached the semifinals of the National Invitation Tournament last season.
The Lady Raiders, coached by Marsha Sharp, did their usual, stirring their loyal fan base and making a run to the NCAA Tournament's final eight.
Tech baseball fell on hard times ' experiencing its worst season since 1991 with a 30-25 record. That's not the norm, however. This year's letdown ended a string of eight straight appearances in the NCAA playoffs, and Dan Law Field normally attracts one of the most rabid followings in college baseball.
Tech's track and field program once generated little interest and struggled to compete with conference members. That's no longer true with fourth-year coach Wes Kittley having sparked a turnaround. The Raiders finished fourth this spring in the men's Big 12 championships.
Just as the track program is becoming more competitive, the Tech golf teams also have a chance to take another step forward ' at least if facilities have anything to do with it.
In late summer, the university is on schedule to open the Jerry S. Rawls Red Raider Golf Course. Located just north of Fourth Street and just west of Indiana Avenue, the 18-hole course will be open to the public and offer green-fee discounts to Tech faculty, staff and students.
At the same time, the Rawls Course will be home to Tech golf teams and ' the university hopes ' will attract NCAA postseason events and possibly sub-PGA Tour pro golf tournaments. A grand opening is planned Sept. 12-13 for the par-72 course conceived by Michigan-based designer Tom Doak.
Lubbock offers residents a variety of sporting outlets, though, that aren't limited to Tech.
The Lubbock Cotton Kings have been one of the most popular teams in the Central Hockey League, finishing last season sixth in attendance in the 16-team circuit. They play a mid-October to mid-March schedule at the Municipal Coliseum.
Lubbock Christian University sponsors sports at the NAIA level. Like Tech, LCU also boasts a late-model arena, the Rip Griffin Center, that's home to the Chaparrals and Lady Chaparrals basketball teams.
West Texas fans also are avid supporters of their high school sports. Locally, Lubbock's prep football teams play games Thursday, Friday and Saturday nights in the fall at Lowrey Field. During the 2002 season, Frenship reached the regional finals, Monterey played in the regional semifinals and Coronado advanced to the area round.
The city enjoyed one of its best seasons ever for prep baseball this spring with seven city teams advancing to at least the second round of the playoffs.
Lubbock residents get their kicks not just from watching sports; they like to play, too. The city boasts thriving recreational participation in sports such as bowling, golf, disc golf, softball, soccer and tennis.
For the golf enthusiast three private country clubs and five public courses can fill the need.
Both a 36-hole golf layout and a disc golf course are located in Mackenzie Park.