The largest public collection of windmills in the world is located on one 28-acre tract in Lubbock.
Coy F. Harris, executive director of the American Wind Power Center, has been accumulating windmills since 1993, when he and the late Billie Wolfe began planning a museum particularly suited to the breezes of West Texas.
The center is located at 1501 Canyon Lake Drive, just south of Mackenzie Park along East Broadway.
On that tract, which extends to 19th Street, Harris has expanded the initial collection of 48 windmills by more than 200. Fifty-two of the windmills are considered so rare they are kept inside a building for preservation.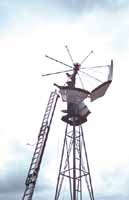 ---
A-J Photo/Chase Perry
---
Currently, 22 windmills have been erected across the site, and can be seen turning in the wind.
The rest are in some phase of restoration.
"Eventually we will have 100 to 150 outside Ð all working," Harris said. "My philosophy is that things have to work."
A new interpretive center building, donated by Kyle and Amy Zahn, is being erected and will provide 28,000 square feet of space for windmills that will be kept inside. It is being set up near the 19th Street side of the property.
According to Harris, windmills were vital to the settlement of the South Plains area, and they are very familiar to those who are native to this region.
"Everybody here grew up with a windmill," Harris said of those born on the South Plains. "It's a big part of history out here. If you didn't have a windmill, you were just passing through."
One of the most eye-catching windmills at the American Wind Power Center is a twin-wheel unit built in the 1920s for irrigation purposes. It is the only one of its type to be restored.
Harris has windmills that range in size from 18 inches in wheel diameter, up to 25 feet in diameter. The latter is the largest existing in North America, but is still sold in other parts of the world.
The windmill museum is one of the special visual attractions of Lubbock, according to Harris. "It will be a major thing when it is finished," he said.
Currently, the museum has reached the midway point of a $5 million funding project. Additional funding and new windmills for the collection are targets for the near future.
The museum is considered free to the public, but the staff suggests a donation of $2 per person to walk through and visit the interpretive center.
"About 600 to 700 people a month come to the museum," Harris said. "Everybody loves the windmills. We want to make it a pretty place to walk through and take pictures."
He added, "It is hard to take a bad picture of a windmill."
When people visit the museum, they likely will see windmills that came from their area, because windmills have been donated from across the United States.
"It is a dynamic museum," Harris said. "Things are turning and working."
This area likely would have been settled much later, had it not been for the windmill, Harris believes.
To early farmers and ranchers, it meant water was always at hand. Conversely, when mechanical problems developed, it was always a matter of priority to attend to.
"If a windmill was not working, you were in trouble," he said.
But the windmill was exceptionally reliable.
"We didn't give it much thought," he said. "It was always working."
Later, the American Wind Power Center will be landscaped with native plants, and walking paths will be constructed.
Harris said some thought also is being given to developing ways of moving people across the site, since the 28 acres often poses a significant amount of walking.