Jobs, education and family or school ties annually attract new residents to Lubbock, but those are hardly the only reasons people move to the largest city on the South Plains.

Reasonable housing costs helped lure retirees John and Judy Friess. George and Irene Dalton chose Lubbock in part because of its friendly residents. Gracie and Robert Buchanan were looking for a city big enough, but not too big.

Old-fashioned family values and pleasant people helped convince transplanted Californians Dr. James and Rebecca Grattan. Dr. Timothy Polk came home to family and a good job. Frank and Mina Horne twice moved away from Lubbock in the 1960s, but always returned.

Newlywed Laura Anderson lives and works in Lubbock because her husband, Justin, attends Texas Tech University Health Sciences Center.

"We highly recommend it," said Laura Anderson, a fifth-grade teacher. "I have a friend starting law school here. She got offers from several places, but I encouraged her to come to Lubbock. We're really happy here."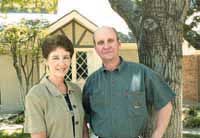 ---
Retirees John and Judy Friess, who met as students at Texas Tech, recently returned to Lubbock, lured in part by the reasonable cost of housing.
A-J Photo/Joe Don Buckner
---
Not even the unpredictable and sometimes violent weather can offset Lubbock's drawing cards.

George Dalton arrived one week after the Lubbock tornado in May, 1970. "I thought, �What in the world am I getting in to?"� the retired Department of Defense employee said. "I seriously considered not moving here."

But Lubbock�s people were the clincher for Dalton, who had considered Del Rio and cities in Oklahoma, Arizona and Florida before transferring to Reese Air Force Base from Holloman Air Force Base in New Mexico.

The people continue to impress Dalton, 65, who lives with his wife, Irene, on 10 acres west of town.

"I�ve never met a grouchy stranger in Lubbock," he said.

It goes beyond that for James Grattan, a cardiologist, and his wife, who searched for six months prior to moving from Santa Rosa, Calif. After he evaluated the medical system in each prospective city, the couple took time to visit a local mall.

"We would spend an afternoon watching people," said Grattan, 52. "Lubbock was, I believe, the only place I saw a teen-age boy open the door for his mother. ... The old-fashioned value systems of America still exist in Lubbock."

John and Judy Friess met as Tech students and resolved to retire in West Texas. He is a retired geophysicist and now an oil business consultant, and she is a retired teacher. They first looked closer to home (he is from Sonora, she from Austin) � but were disappointed with housing in San Angelo and the "urbanization" of the Hill Country.

"We knew we wanted to live in a metro area, and we fell back in love with Lubbock," John Friess said after the couple moved last summer from Ponca City, Okla. "The housing, the (availability of) water, the fact we went to Texas Tech and would enjoy going to Red Raider game functions � all those things fell together at one time.

"Hey, this is where we�re meant to be. We kept running into brick walls elsewhere."

Laura Anderson, 23, and Gracie Buchanan, 27, are Baylor graduates and taught last school year at Parkway Elementary School.

Anderson, from Tyler, had never been to Lubbock until visiting the TTUHSC with her husband. The young couple, who were married last July, have come to like the city.

"It�s big enough and has pretty much everything you need and still small enough," Laura Anderson said. "It takes me only 10 minutes to get to work, and you�re not stuck in rush-hour traffic. We were able to afford a house, and the people are real friendly."

Buchanan, from Big Spring, and her chiropractor husband Robert, from Gail, considered San Angelo and the Waco area after graduating from college five years ago.

They liked the size of Lubbock, its closeness to their parents and the access to a major university. The cost of living was lower than in other Texas major metro areas, and she said they found affordable housing and "decent neighborhoods."

Polk, 26, was raised in Lubbock and graduated from Monterey High School. The young veterinarian returned in May after finishing his degree at Texas A&M University and considering job offers in the Houston, Dallas and Fort Worth areas.

"I was offered an excellent job," he said. "That was one plus. Another plus, I am familiar with the area and the people, and the climate is excellent for me. When it it came down to it, I knew this was the place for me."

Grattan and his family left California because HMOs made "it very difficult to practice quality medicine."

The quality of medicine he was able to practice and quality of family life were priorities as the Grattans looked "in most of the states west of the Mississippi," he said. Among the finalists were Austin, Kansas City and Salt Lake City.

"I made the mistake once of picking a place to live by looking at the geography, and picked a beautiful place," he said.

Frank and Mina Horne were married one month in September, 1959, when they moved to Lubbock � where his parents lived � from Sioux City, Iowa.

"We knew we didn�t want to stay up there in that cold climate," said Frank Horne, 69, a retired U.S. Postal Service letter carrier. "We liked Lubbock the first time we saw it.�

The Hornes twice moved away for jobs, to California in 1962 and St. Louis in 1966. But they returned both times and settled just west of the city limits near the old Reese Air Force Base.

"I can�t think of anything I don�t like about Lubbock after all these years," he said. "All our kids were born here, my parents are buried here, we really don�t have a reason to go anywhere else � unless we hit the lottery."

Ray Glass can be contacted at 766-8745 or < A HREF="mailto:[email protected]">[email protected]